Snäckedal
Address: Snäckedal Oskarshamn
Show map
Address: Snäckedal Oskarshamn

Experience one of Sweden's most unusual Bronze Age sites!
The area containing ancient remains from the Bronze Age measures approx. 247 acres and consists of large stone circles and a large number of monumental cairns. The largest cairn has a diameter of 24 m and one of the ship-formed stone formations is 40x7 m. The size and number of graves suggests that the area was of central significance during the Bronze Age, as the sea came in here.

No signs. Turn right by the Göljhulte caves, after 2,5 km turn left on a gravel road by a farm.
Show more
Hotels and guesthouses
Distance: 29 km
Hotels and guest houses | Could the day after a night in Oskarshamn start any better than with a sunrise over the sea and views of the Baltic Sea and Blå Jungfrun? That's what many of our 75 rooms offer. The hotel also has modern conference facilities and a non-smoking, disabled-friendly and pet-friendly environment. This makes it the perfect place for both relaxation and business in Småland. Here you are close to wonderful nature near the sea and the national park Blå Jungfrun.
Hotels and guesthouses
Distance: 29.2 km
Hotels and guest houses | Adels Hotell is located a stone's throw from the sea and the Gotland terminal. The building was erected in 1918 as a residence for the then director of Oskarshamn's copper works – Ture Lindblom.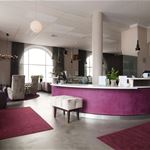 Hotels and guesthouses
Distance: 29 km
Hotell and guesthouse | Hotel Post is centrally located by Stora Torget in Oskarshamn, just a few minutes' walk from the travel centre and the ferry quay.