Address: Figeholm

Figeholm still holds the spirit from the time when the little village was home port for hundreds of sailing-vessels. Here you can enjoy well-maintained houses and surroundings.
In Figeholm there are many well-maintained houses from the time when the village became a market town. From the popular guest harbour, you can walk alongside the stream Norrån. Stenhagen is a nature reserve and is a part of a greater nature area called Natura 2000 Figeholm.
Show more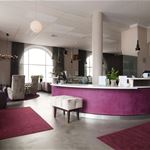 Hotels and guesthouses
Distance: 14 km
Hotell and guesthouse | Hotel Post is centrally located by Stora Torget in Oskarshamn, just a few minutes' walk from the travel centre and the ferry quay.
Hotels and guesthouses
Distance: 14 km
Hotels and guest houses | Adels Hotell is located a stone's throw from the sea and the Gotland terminal. The building was erected in 1918 as a residence for the then director of Oskarshamn's copper works – Ture Lindblom.
Hotels and guesthouses
Distance: 13.5 km
Hotels and guest houses | Could the day after a night in Oskarshamn start any better than with a sunrise over the sea and views of the Baltic Sea and Blå Jungfrun? That's what many of our 75 rooms offer. The hotel also has modern conference facilities and a non-smoking, disabled-friendly and pet-friendly environment. This makes it the perfect place for both relaxation and business in Småland. Here you are close to wonderful nature near the sea and the national park Blå Jungfrun.